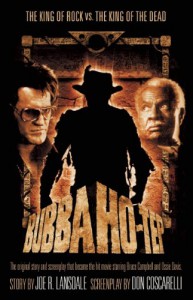 Bubba Ho-Tep was recommended by a friend/blogger (you know who you are and my thanks for a cracking rec), so it went on the old list for consideration until I eventually got round to reading it on holiday. Wish I'd read it long before that though, what a thoroughly enjoyable tale of the elderly and mentally unstable's battle against a supernatural entity that feeds on souls.
And with some famous adversaries in Elvis Goddamn Aaron Fucking Presley, John F Kennedy who believed his brain was in the White House running on batteries and Mums Delay who thought she was John Dillinger. It's all kicking off at the Shady Rest Convalescent Home as Evil makes an appearance.
This is absolutely hilarious in places, here's one quote for you, a comical, almost poetic prose that I loved.
'The sun, like a boil on the bright blue ass of day, rolled gradually forward and spread its legs wide to reveal the pubic thatch of night, a hairy darkness in which stars crawled like lice, and the moon crabbed slowly upward like an albino dog tick thriving for the anal gulch.'
And another for good measure
'Meanwhile…
The Earth swirled around the sun like a spinning turd in the toilet bowl (to keep up with Elvis's metaphors) and the good old abused Earth clicked about on its axis and the hole in the ozone spread slightly wider, like a shy lady fingering open her vagina, and the South American trees that had stood for centuries were visited by the dozer, the chainsaw, and the match, and they rose up in burned black puffs that expanded and dissipated into minuscule wisps, and while the puffs of smoke dissolved, there were IRA bombings in London, and there was more war in the Middle East. Blacks died in Africa of famine, the HIV virus infected a million more, the Dallas Cowboys lost again, and that Ole Blue Moon that Elvis and Patsy Cline sang so well about swung around the Earth and came in close and rose over the Shady Rest Convalescent Home, shone its bittersweet, silver-blue rays down on the joint like a flashlight beam shining through a blue-haired lady's do, and inside the rest home, evil waddled about like a duck looking for a spot to squat, and Elvis rolled over in his sleep and awoke with the intense desire to pee.'
Apologies for that overly long quote but it was worth it just to read it again and there are loads more I could put in, anyway I loved this, the humour is spot on and I've bought the film, all from my first Lansdale. Looking forward to my next.