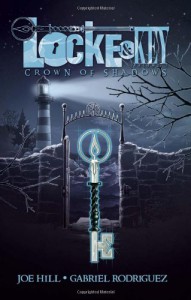 This series just gets better and better, Zac Wells or Dodge or the lady from the well uses the ghost key and battles the ghost of the killer Sam Lesser, who it has to be said is not to happy. On returning to his body Zac is interrupted by Nina and loses some of his precious keys. The story continues and we get a few hints at the past as a list of names is discovered by Kinsey from 1988, now under water the names start with Rendel Locke and the last name is Dodge Caravaggio, now Zac Wells.
Dodge is after the key to the Wellhouse but for the time being he'll have to be content with the Crown of Shadows, and now the Locke children have a battle on their hands a battle against shadows. Tyler has his own answer to shadow, something very big a key that turns him into a giant. Queue some fantastic artwork as the various shadow creatures come up against Tyler Locke.
The keys get wilder and the horror seems more destructive, Nina is losing the plot but a significant discovery is made on the last page as another key almost presents itself. Now we're all set for a momentous battle between Dodge and the Locke children.